A Winning Route Plan for Your Mobility Advertising Campaign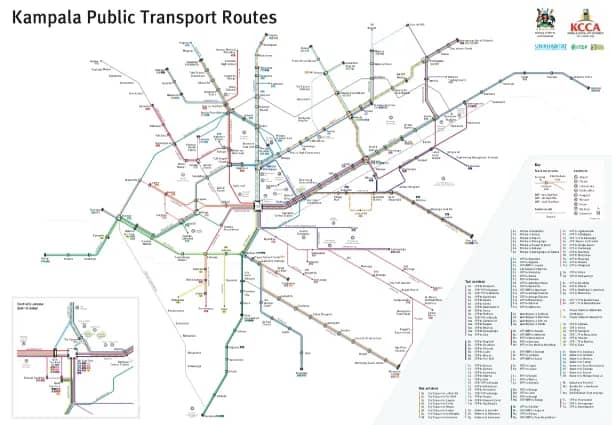 Are you ready to revolutionise the way you engage with your target audience? The world of mobility advertising holds immense potential, and crafting a successful route for your campaign can be the game-changer you've been seeking. As you embark on this exciting journey, consider these key strategies that will set you on the path to success with ADWrap.
Your Route Selection is Key
In the intricate tapestry of mobility advertising, one thread stands out as the keystone: your route selection. The roads you choose to traverse can transform a simple message into a powerful narrative that resonates with your target audience. At ADWrap, we recognise the significance of this decision and how it can shape the trajectory of your campaign's success. Here's an exploration of the route selection process, complete with insights into high-traffic areas across Kampala and our broader reach throughout Uganda.
Understanding Your Audience's Pathways
Effective route selection is synonymous with understanding the pathways your audience treads. It's about identifying the routes they frequent and ensuring your message intersects with their daily lives. But how do you gauge the impact? Let's dive into the numbers:
Imagine bustling streets teeming with life — pedestrians, drivers, and onlookers. The streets of Kampala, a city that never sleeps, are alive with movement. It's estimated that thousands traverse these streets each day, whether by foot or behind the wheel. These individuals are potential eyes on your advertisement, absorbing your message in the midst of their urban journeys.
As you curate your campaign route, consider the numbers: how many people walk or drive along the selected paths each day? And how many among them will encounter your ad? It's not just about being seen; it's about being seen by the right people, at the right time, in the right place.
Insights into Kampala's High-Traffic Areas
Navigating Kampala's vibrant streets requires an intimate knowledge of its pulse. Here's a glimpse into some high-traffic routes, each covering areas of bustling activity:e high-traffic routes, each covering areas of bustling activity:
OTP to Kibuye, Zzana, Freedom City, Sseguku, Lweza, Kajjansi to Entebbe Airport: A journey that connects diverse neighborhoods, weaving through both residential and commercial areas.
OTP to Nsambya, Kabalagala, Kansanga, Bunga, to Gagba Beach: A route encompassing vibrant entertainment districts and popular social spots.
OTP to Wandengeya, Mulago, Kubiri, Kalerwe, Kyebando, Mpererwe, Wampewo, Kasangati, Gayaza: Connecting educational hubs and bustling markets, this route covers a wide spectrum of activities.
City Square, Electoral Commission, Village Mall, Bugolobi Market, Kitintale, Mutungo Tank Hill, Luzira, Portbell: A journey through key landmarks and high-footfall commercial and residential areas.
OTP to Jinja Road, Lugogo, Nakawa, Banda, Kireka, Namboole: Traversing bustling commercial zones and leading to major entertainment venues.
OTP to Mulago, Kamwokya, Ntinda, Kigowa, Kiwatule, Naalya, Kyaliwajala: A route that captures the essence of city living, connecting various neighborhoods.
OTP To Kibuye, Massaja, Jika Medical Centre, Gango, Kibiri, Busabala, Kanaba, Ndejje, Busabaala, Entebbe Expressway to Munyonyo Roundabout: A journey through residential areas, educational institutions, and recreational spaces.
Usafi TP, Kawaala, Kasubi, Wangi Market, Namugoona, Nabweru, Nasana, Kayunga Market, Wakiso: A route spanning markets, neighborhoods, and suburban areas.
OTP Via Jinja Road to Kireka, Bweyogerere, Namanve, Sseta, Mukono: Connecting the city to its outskirts, traversing through industrial and residential zones.
Expanding Beyond Kampala: Nationwide Reach
While Kampala's vibrant streets offer a dynamic canvas, our mobility advertising is not confined to this cityscape alone. At ADWrap, we extend our reach across the diverse landscape of Uganda. From urban centres to rural communities, our network of drivers and routes covers a spectrum as vast as the nation itself.
Your mobility advertising campaign is not just a journey; it's a statement that resonates with every soul it touches. With ADWrap, your message travels beyond the confines of Kampala, weaving its way into the fabric of Ugandan communities far and wide.
2. ADWrap's Driver Selection Process
The backbone of an impactful mobile advertising campaign rests on the shoulders of dedicated and qualified drivers. ADWrap takes pride in connecting you only with authorised individuals who are not just drivers but brand ambassadors.
Our meticulous driver selection process ensures that every driver is not only skilled but also aligned with your campaign's essence. Here's an inside look at how we curate this team:
Rigorous Screening: We believe in quality over quantity. Our screening process begins with a comprehensive assessment of applicants' driving records and background checks. This ensures that drivers with a history of responsible driving and professionalism are given preference.
Brand Alignment Interview: Every driver carries a piece of your campaign's identity. During the brand alignment interview, we evaluate the candidate's understanding of your campaign's objectives, message, and values. This step guarantees that each driver becomes a true advocate of your brand.
Ethical Standards Evaluation: Integrity is at the core of our driver selection process. We evaluate candidates' ethical standards to ensure that they uphold honesty, respect, and responsibility — values that align seamlessly with your campaign.Training and Orientation: Once selected, drivers undergo rigorous training and orientation sessions. This includes familiarizing them with your campaign's messaging, safety protocols, and the importance of creating a memorable and positive experience for onlookers.
Continuous Monitoring: Our commitment to excellence doesn't end after selection. We continually monitor and evaluate drivers' performance to ensure that they consistently meet the high standards set by ADWrap.
Creating a Synergy of Impact and Responsibility
At ADWrap, the driver selection process is not just about finding individuals to drive vehicles; it's about building a team of brand ambassadors who carry your campaign's message with pride, responsibility, and impact. By meticulously vetting drivers and aligning them with your campaign's essence, we ensure that every journey through the city streets becomes an authentic representation of your brand's values and vision.
Crafting Your Journey with ADWrap
At ADWrap, we understand the pivotal role of a well-structured route plan in mobility advertising. Our expertise lies in guiding you through this intricate process, ensuring that your campaign's journey is as impactful as its destination.
Your mobility advertising campaign is not just about moving from point A to point B; it's about leaving a trail of impressions and connections. Craft your journey wisely, and watch as your message takes on a life of its own on the streets.
Mobile advertising is just a single facet of the products that ADWrap is preparing to introduce. Enlist in our waitlist as we approach the official launch of our website, and delve into the possibilities through which we can enhance your brand's advertising journey.
To learn more, reach out to us at team@adwrap.app or call 0785682103.
---